Frequently Asked Questions
Our official hotel partner, the New Haven Hotel, offers convenient, downtown location with fine guest accommodations. For your visit to Westville Music Bowl, book here for hotel rooms at special rates.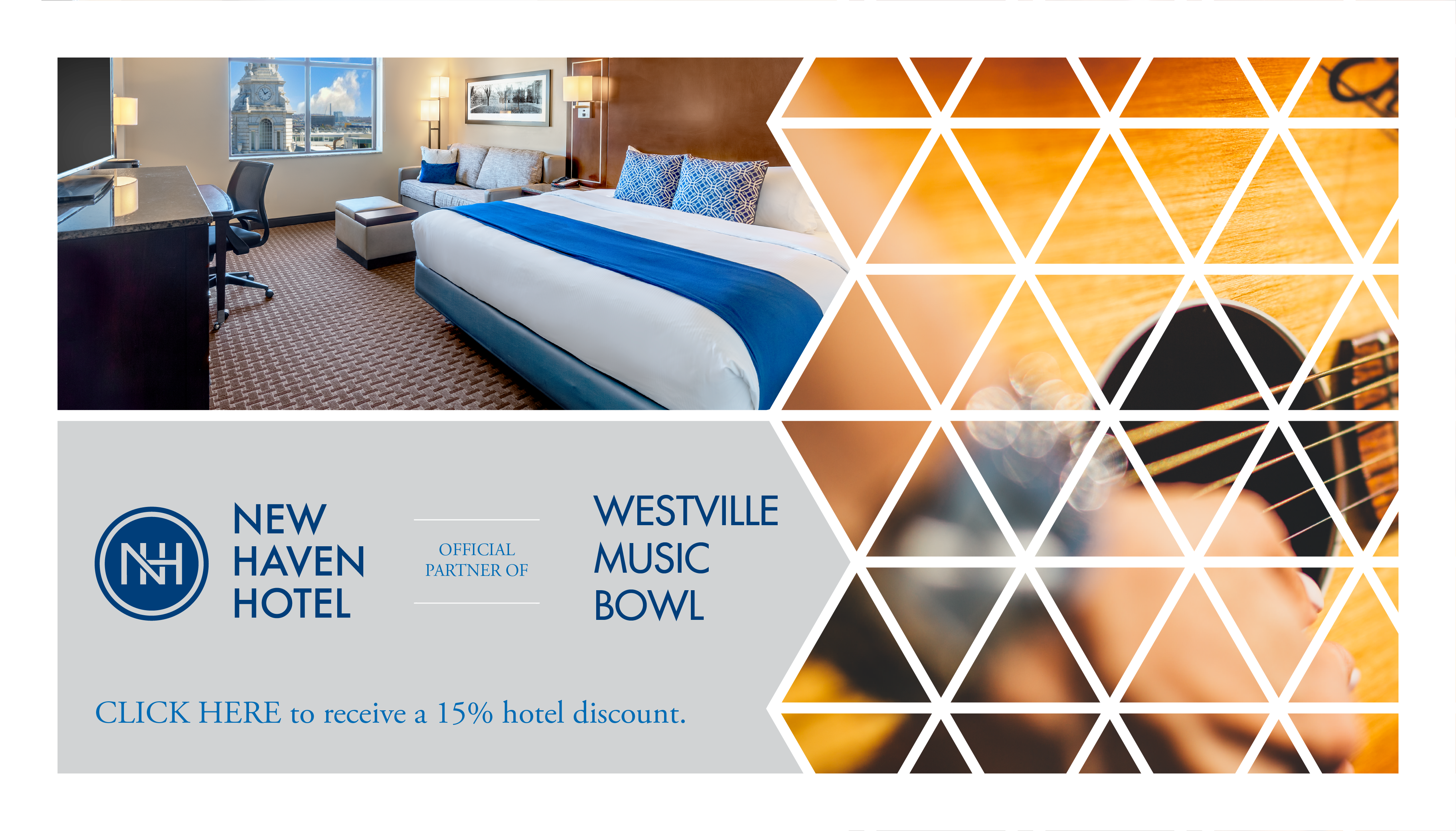 Is Westville Music Bowl all ages?
All events are All Ages unless noted otherwise. Please check the page for the show you are interested in to make sure before purchasing tickets. 18+ and 21+ events will be clearly marked and noted in advance.
Is this a general admission venue? What does that mean?
The seating for Westville Music Bowl is different for each show. Please refer to the seating map and event details during the ticket purchase process to learn more about seating and pricing details for your event. If you have already purchased your ticket, please click through the ticket purchase page to see seating details for your event.
What happens in the event of rain as inclement weather?
All shows at Westville Music Bowl are held rain or shine.
If weather conditions are deemed unsafe and the show is unable to proceed on the scheduled day, ticket holders will be notified via email with any date postponement or cancellation information.
Please be aware that sharp pointed and oversized umbrellas will not be allowed inside the venue. Normal sized non-pointed umbrellas are permitted. We recommend ponchos or rain jackets! Ponchos are available for purchase at our merch booth.
ALLOWED ITEMS:
Clear plastic, Vinyl, or PVC tote bags no larger than 12" x 6" x 12" and small clutch bags
Blankets
Water - one sealed bottle up to 20oz
Empty water bottles no larger than 32oz (normal Nalgene bottle size)
Non-pointed tip umbrellas
Rain jackets
PROHIBITED ITEMS:
Weapons of any kind
Illegal drugs and substances
Bags and containers larger than 12" x 6" x 12"
Alcohol, cans, bottles, and outside food
Laser pointers
Fireworks
Skateboards, rollerblades, and bicycles
Animals not authorized under the Americans with Disabilities Act or state and local laws
Unauthorized solicitation
Any items deemed to be dangerous
Drones
What is the COVID-19 policy?
Currently, there are no events with any COVID-19 requirements, meaning fans do not need to show proof of negative test or vaccination card. The COVID-19 policy is on a show by show basis and may change due to artist request or city, state, or federal govenment mandate. Fans will be notified if COVID-19 policy changes.
Is there food at Westville Music Bowl?
YES! We have a rotating list of great local food vendors at every show located on the main concourse, and by the main bar on the ground level!
Pitaziki
We serve a full menu that includes pita sandwiches, wraps, and rice bowls that you can customize with fillings from chicken, kabob, falafel, chicken shawarma, lamb kofta, grilled veggies or gyro that you can top with unlimited toppings and sauces.
Cast Iron Chef Food Truck
At Cast Iron Chef food truck, we pride ourselves on making delicious homemade food. With our rotating menu of fan favorites, you can always expect top-quality food at an affordable price. From our family to yours, we hope you enjoy it!
Bears Smokehouse BBQ
Bears Smokehouse BBQ offers a wide selection of wood smoked, Kansas City style barbeque as well as sauces and sides. Enjoy delicious brisket, pulled pork, chicken, and mac & cheese!
Pig Candy
Pig Candy is real bacon slow roasted with brown sugar until it's crispy and crunchy
Are there ADA compliant restrooms?
Each restroom area on the concourse level contains ADA compliant restrooms. The lower level floor area has ADA compliant porta-restrooms located just outside the venue. There are no restrooms located on the upper bowl level of the venue.
What does the venue accept as a "valid ID"?
To pick up tickets at will-call, a current, government-issued photo ID (e.g. driver's license, passport, military ID), or, a copy of your birth certificate, your driver's permit, or a photo ID (e.g. school ID, gym membership). To purchase alcohol, you must be 21+ years of age and have a government-issued photo ID.
Can I bring my camera in?
Point-and-shoot cameras are allowed and must be used with the flash turned off. DSLR, detachable lens cameras, and professional level cameras are strictly prohibited.
Where can I purchase tickets?
Tickets for Westville Music Bowl can be purchased online right here from our home page, or from the Event link above, or directly from our official ticketing partner, AXS.

To buy tickets in person, you can visit the box office starting 30 minutes before gates open for any show if that day's show is not sold out. You can also visit the box office on-site to purchase advance tickets for upcoming shows.
AXS Mobile ID is digital ticketing technology that provides the flexibility and convenience of safely and securely managing your tickets online or in the AXS mobile app. Using the AXS app allows you to enter the venue with your AXS Mobile ID and manage your tickets digitally. AXS Mobile ID also gives you the ability to transfer, sell and buy seats through an official resale marketplace endorsed by the Westville Music Bowl.
AXS Mobile ID allows for convenience, flexibility and security. You can manage tickets digitally, transfer or sell tickets when needed (if applicable), and remain assured that all tickets are authentic and secure. AXS Mobile ID is designed to put tickets in the hands of fans, reduce ticket scalping from unauthorized resale sites & ensure that we know who is coming to the show.
How do I create an AXS account?
When purchasing tickets, if you select AXS Mobile ID delivery, your tickets will be automatically added to your AXS account. If you do not currently have an AXS account you will be instructed to create one during your purchase. You can also create an account without purchasing tickets by going to AXS.com and entering some basic information. After completing the account information, you may buy, sell or manage any seats in your account.
How do I use my digital tickets?
1. Download the AXS app (your ticket confirmation email from AXS will have instructions for you to follow).
2. Open the AXS app and sign in to see your tickets.
3. Show the ticket in the app at the entrance and get them scanned to enter.
4. Enjoy the event!
If you purchased tickets for a group make sure everyone enters together OR transfer tickets to friends before the event. Have your guests follow the steps above to receive the transferred tickets.
What if my guests arrive at different times?
Many fans find it best to transfer the digital tickets to their guests prior to the event. This way your guests will be able to enter when they arrive using their own AXS Mobile ID.
Transferring your Tickets
A ticket transfer allows you to digitally give each guest in your party their own ticket via the AXS mobile app. With seat transfers, you no longer need to worry about delivering the paper tickets to them in advance or meeting them outside of the venue to walk in together. There is no fee for transferring seats and you are allowed unlimited transfers.
Your guests will need to create an AXS account to receive tickets. Guests can transfer the tickets back to you if they can't attend or you can cancel the transfer if they have yet to set up their AXS account. If they already have an AXS account set up the tickets will go in their account automatically.
Here's how it works:
1. Click the Transfer button next to the event in your AXS account.
2. Select the tickets to transfer and enter the recipient's information.
3. On the review page, click the Transfer button to send the tickets.
The recipient will get an email about the transfer, and they'll need to create an AXS account (if they don't have one yet) to complete the ticket transfer. After that, the tickets will be theirs to use with the AXS app.
How will I know if my transfer was successful?
Review your transfer history within the AXS app by clicking on MY EVENTS and selecting TRANSFERRED.
How do I accept Transferred Tickets from someone?
If you already have an AXS account, the tickets will be transferred to your account automatically. If you do not have an AXS account, you'll receive an email with instructions to create an AXS account to claim the tickets that have been transferred to you.
Once I have downloaded the AXS App and have an AXS account, do I have to accept the transfer every time? Once you have an account, seats transferred to you will be accepted by your account automatically (no need to accept them manually).
Can seats be transferred to someone who doesn't have an AXS account?
Yes, but they will need to create an AXS account to claim the tickets. They'll also need to download the AXS app. When it's time for the event, they can open the app to show their tickets on their phone.
Can I cancel a transfer?
If your friend already has an AXS account, the tickets will be transferred instantly. Otherwise you have until your friend creates an account to cancel the transfer. Remember, your friends can always transfer tickets back to you.

Selling your Tickets
What is AXS Official Resale and where do the tickets come from?
AXS Official Resale is the safe and easy way to buy and sell AXS tickets with other fans. When fans have tickets they can't use, they can list them for other fans to buy. Buyers get 100% valid and authentic tickets delivered straight to their AXS accounts, and sellers get paid by direct deposit. If available, you'll see the option to get tickets with AXS Official Resale on the event page.
AXS Official Resale is the best way to sell your digital tickets because it is the official marketplace endorsed by Westville Music Bowl. Tickets purchased through unofficial sources (such as third party ticketing sites) may not be valid.
How to sell your tickets:
1. Click the Sell button next to the event in your AXS Account.
2. Select the tickets to sell, and then set your price and selling options.
3. On the Review page, click the List Tickets button to complete your ticket listing.
When your tickets sell, you'll receive an email informing you of the sale. The tickets will be delivered to the buyer automatically. You'll be able to transfer money to your bank from your account on AXS.com.
How do I know if I can sell my tickets?
If you see a Sell button next to your tickets in your account, you can sell them. It's up to the specific artist and/or their management if you can sell tickets or not.
When I sell tickets, do I have to deal with the buyer?
Never. AXS handles payment and delivery so buyers and sellers never interact with each other. Buyers get the tickets delivered straight to their AXS accounts, and sellers get paid by direct deposit.
When does a ticket listing expire?
When listing tickets, you decide how long your listing will be available for others to buy. You can remove your listing at any time (as long as the tickets haven't sold).
How do I remove a listing?
1. Sign into your AXS Account and click Listings
2. Choose a listing and click Retract
3. Click yes, retract now.
Your tickets will no longer be listed for others to buy.
When I buy tickets through AXS Resale, do I have to interact with the seller?
Never. AXS handles payment and delivery so buyers and sellers never interact with each other. Buyers get tickets delivered straight to their AXS accounts, and sellers get paid by direct deposit.

What if a show is sold out?
As long as there are people who have tickets to sell, AXS Official Resale is the best & safest place to find tickets and the only verified marketplace where fans can connect to buy and sell tickets. AXS is the official ticketing source for the Westville Music Bowl and tickets purchased outside of AXS or www.westvillemusicbowl.com may be fraudulent.
I can't find my ticket, what should I do?
I purchased a ticket from an unofficial source (Craigslist, StubHub, cashortrade, etc.) - can you verify this ticket for me?
The only source for verified tickets is through our physical box offices or official ticketing partner, AXS.
WE ARE NOT ASSOCIATED WITH ANY THIRD-PARTY TICKET COMPANIES AND CANNOT GUARANTEE THE VALIDITY OF ANY TICKET THAT IS NOT PURCHASED THROUGH ONE OF OUR OFFICIAL OUTLETS.
Please note that the name on tickets must match the name presented on the ID used by whomever is attempting to redeem tickets. Fans who purchase tickets from unofficial sources will need to follow up directly with the seller to handle all ticket arrangements.
I have a question about tickets I've already purchased - who should I contact?
Please contact AXS Support here
Pre-purchase Parking
Advance parking reservations are available for select shows and select parking locations here!
Is there parking at Westville Music Bowl?
There are paid parking lots surrounding Westville Music Bowl located on Yale Avenue and Central Avenue. If you choose to park on the street, please notice any posted signs indicating two-zones or permit-only parking. There is no on-street parking in surrounding neighborhoods. All streets will be posted "No Parking" and violators will be towed.
What time do parking lots open?
Parking lots open 90 minutes prior to gate times. Parking lots close 30 minutes after the end of the event.
Are there Uber/Lyft Drop-Off Points?
For this year's socially distanced shows, ride-sharing service drop-off locations will be located near the upper gate on Yale Avenue, please follow appropriate signage. For full capacity shows, location is to be determined -- please check back for updated information.
Is ADA parking available?
Our ADA parking lot is located directly across the street from Lot A, on the Yale Bowl (Football stadium) grounds. ADA parking will be available in a designated area in General Parking to vehicles displaying a special license plate or a placard. The placard must be hung from the front windshield rearview mirror when using a parking space reserved for people with disabilities. If there is no rearview mirror, the placard must be placed in clear view on the dashboard. Vehicles bearing a special license plate may not use a handicapped parking space when the vehicle is not being driven by, or carrying as a passenger, the person to whom DMV issued the special plate.
Is there a tailgating area outside of Westville Music Bowl?
No, TAILGATING is PROHIBITED! Alcohol & Tailgating are not permitted in parking lots.
Where is the entrance/exit located?
The main entrance and exit are located at street level of the event site. Please follow appropriate signage from the parking areas, or you may request assistance from our staff.
Once you leave the premises, there is no re-entry.
I have an oversized vehicle, where can I park?
Oversized parking is available in General Parking Lot H and is subject to additional parking fee. Oversized vehicles are not permitted in on-site primary parking Lot A